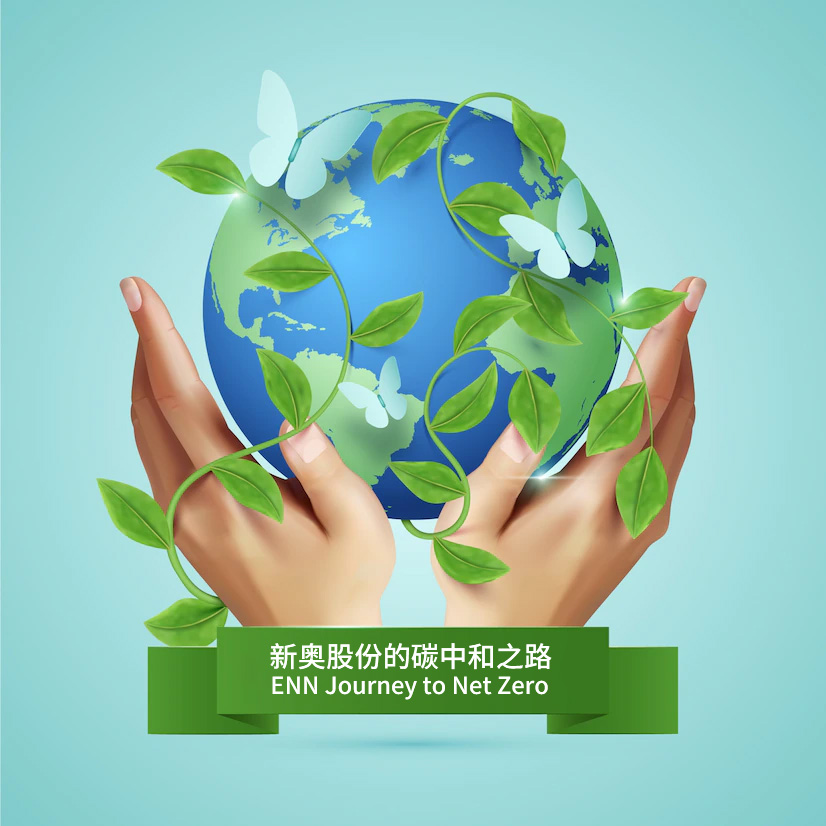 2030 Green Action Plan
ENN Journey to Net Zero
In 2020, ENN Natural Gas completed the integration and restructuring with ENN Energy, penetrated the natural gas industry chain with forward-looking layout, and firmly seized the opportunity of natural gas market reform. The Company is committed to becoming an intelligent ecological operator in the natural gas industry. Upholding the mission and responsibility of "building a modern energy system and improving the quality of people's life", the Company has deeply studied the requirements of the national "dual carbon" goals and the development status of the energy market. We aspire to continuously promote the green and low-carbon development of the natural gas industry chain and engage in the profound reform of the global energy production and consumption modes.
We have set short, medium and long-term carbon emission reduction targets for the main business segments
Natural gas production, import and direct sales Energy production (coal, methanol)
Reducing the GHG emission intensity (total Scope 1 and Scope 2 GHG emissions/sales revenue) by 20% from the 2020 baseline by 2025
Reducing the GHG emission intensity (total Scope 1 and Scope 2 GHG emissions/sales revenue) by 50% from the 2020 baseline by 2030
Integrated energy sales and services
Achieving new photovoltaic installed capacity by 2025
On the basis of 2019
Achieving new photovoltaic installed capacity by 2030
On the basis of 2019
Natural Gas Distribution
Reducing the GHG emission intensity (total Scope 1 and Scope 2 GHG emissions/natural gas sales) by 10% from the 2019 baseline by 2025
Reducing the GHG iemission intensity (total Scope 1 and Scope 2 GHG emissions/natural gas sales) by 20% from the 2019 baseline by 2030
ENN Natural Gas Green Action Plan 2030 Panorama
Natural gas production, import and direct selling
Full Life Cycle Carbon Neutral LNG
Increase GHG Transparency in LNG Supply Chain:the Company collaborates with Cheniere Energy to develop full life cycle carbon footprint standard to deliver LNG with carbon label. We also develop carbon neutral LNG products and make online transactions.
LNG Production Carbon Reduction
Overall optimization and upgrading of existing production equipment: through the technical transformation of production equipment, we achieve the purpose of energy saving, improving efficiency and stability, reducing the consumption of electricity, natural gas and other energy.
Zhoushan LNG Terminal 
ToBuild a Zero-Carbon Terminal
Energy conservation and efficiency improvement with integrated energy use and supply: targeting all scenarios of the natural gas industry, Zhoushan Terminal integrates energy supply and realizes system energy saving through energy facility optimization + digital intelligence. Zhoushan Terminal achieves the upgrade from the transformation and optimization of a single facility and a single system into the overall matching between multiple systems. Besides, Zhoushan Terminal also builds energy use scenarios featuring integrated energy use and supply, and reduces carbon emissions from purchased electricity, transportation, and production.
Residual energy exploration and utilization: the smart energy management system is used to explore the LNG cold energy and fully utilize the potential energy of LNG circulating cooling water for power generation. It is expected that the cold energy single-and-double cycle power generation and cold energy air separation projects will be completed by 2035, and the LNG cold energy will be fully utilized to develop the circular economy.
Coal
Green Mine
Forest Carbon Sink: the Company has carried out comprehensive renovation and restoration around the mine area, to increase the forest coverage and establish a forest carbon sink and green industrial demonstration base. We will extend our grassland carbon sink pilot alongside with the policy development.
Increase the proportion of renewable energy consumption: the Company has been promoting distributed
photovoltaic projects with a goal of launching power
generation before 2025. Such efforts would significantly
optimize our existing energy consumption structure.
Methanol Production
Lean operation to achieve energy saving and consumption reduction: the Company has deployed the smart control of Methanol Production facilities. Through the overall system optimal design, we improve the average production stability and material utilization. While stabilizing the production indicators, we also achieve energy-saving and emission reduction in production. By recovering vapor and water resources from coal-to-methanol production, we can supply engineering energy in the surrounding parks and continuously improve resource utilization efficiency.

Deployment of hydrogen, photovoltaic and other clean energy: the Company has been investing in distributed photovoltaic projects and photovoltaic electrolysis water to produce hydrogen technology, which will be added to the coal-to-methanol system, thus reducing the consumption of raw coal and purchased oxygen. It is expected to reduce CO2 emissions from oxygen. It is from Methanol Production.
Carbon Capture, Utilization and Storage: the Company has been developing the industrialization of Carbon Capture, Utilization and Storage (CCUS) technology through independent research and external cooperation. Having the most advanced CO2 fracturing lab, we conducted supercritical CO2 staged fracturing and sequestration experiment to achieve a large-scale CO2 sequestration. We set up a food-grade liquid carbon dioxide production unit to recycle the carbon dioxide emitted by the methanol unit, with an annual utilization of 150,000 tons of CO2.

Green Methanol: the Company has actively researched and developed green methanol process. With the carbon dioxide discharged from the existing coal-to-methanol unit as raw material, it is estimated that 52,700 tons of CO2 emissions will be reduced every year.
Methane Emission Management
(1)Align with international standards and improve transparency,
Joined the Methane Guiding Principles (MGP) in 2021, we aim to adopt best practices for identification, monitoring and reporting of ME, and to disclose ME data in align with MGP in 2023 and continuously improve transparency afterwards.

(2)Improve ME management policies and measures,
Integrate methane management into daily operations, deploy continuous emission reduction measures, and gradually link performance related to ME management with compensation.

(3)Promote the application of onsite detection technology
Aim to equip all city-gate stations with the onsite detection devices such as PTZ by end of 2022, so as to improve quality and accuracy of ME data.

(4)Encourage eco-partners to take actions,
As a founding member of the China Oil and Gas Methane Alliance, we pledge to achieve the common goal of the alliance and advocate for more eco-partners to take actions on ME management, including taking advanced technologies and improving disclosure transparency.
Low-carbon intelligent construction service provider
Build the core full-cycle low-carbon capacity: by integrating technologies such as digital intelligence technology, digital twins, and digital operation with low-carbon chain, the Company offers the low-carbon intelligent construction process solutions, digital delivery low-carbon intelligent solutions, and low-carbon intelligent calibration whole-process solutions. We also reshape the "planning - construction – operation" service model, and achieve low-carbon operation throughout the whole cycle.
(1)Adopt clean fuels for self-owned vehicles
Aim to achieve carbon emission reduction of 28.3% for self-owned transportation vehicles by eliminating diesel transporting vehicles by end of 2025; switch to zero-carbon fuels such as hydrogen or bio-fuels around 2030.
(2)Enhance efficiency and reduce emission with intelligent approaches
Continuously implement the digital and smart technologies including Yuntu Cloud System and smart dispatching to optimise route and minimise the idling rate, so as to improve efficiency and reduce carbon emissions.
(3)Promote low-carbon operations of eco-partners,
Aim to take the low-carbon transportation as a core criterion for supplier access since 2026.
Green Households
Understanding the household customers' pursuit of smart energy usage, safety and low-carbon quality of life, we will serve them by leveraging the use of digital and intelligent technologies such as LoRa, LoT, big data, etc.
(1)Energy Conservation in Office Buildings
Use of renewable energy. Aim to fully deploy photovoltaic for self-owned office buildings, with solar power generation accounting for 5% of electricity consumption by 2025.Energy-saving management of office buildings. Aim to reduce energy consumption per unit area of office buildings by 10% by 2025.
1 Energy-efficient lighting fixtures and air conditions
2 Paperless office
3 Green building standards for office buildings
4 Intelligent management of energy utilisation
(2) Low-carbon Travel
Aim to replace 50% of self-owned administrative vehicles with new energy vehicles by 2025.